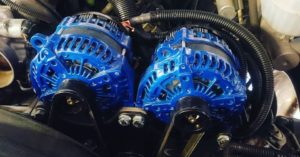 FAQ
Frequently Asked Questions
Welcome, we hope to provide quick, DIY solutions to any problem you may be experiencing. This section also seeks to provide quick answers for any inquiries you might have. We of course have full confidence in our products; we would however like to ensure that our clients have the right guidance on installation as this will save them from any difficulty.
***Attention***
Ensure you disconnect your battery first before attempting to work on the electrical system of your vehicle.
How long will it take before my order ships:
Orders ship within 5 to 10 business days sometimes sooner. If for some reason parts are on back order, we will notify you, but this is not common.
Slipping belt – Each of our high output alternators come with smaller overdrive pulley. This pulley is made to increase low RPM charging for maximum output. It is custom for the diameter of the overdrive to be less than your factor pulley, depending on the kind of vehicle you own. If the belt provided does not suffice, you may get the right length from your local parts store. In using the belt and the pulley system, ensure that each part of the pulley system is free of oil or grease, this will help its efficiency.
Regulator plug – currently not plugged in or not seated well, it would be important to make sure that the small regulator plug that is located on the back of the alternator is well plugged in for the correct functionality. Do not forget to plug them in completely, try not to jam the plugs in backwards, avoid pinching them in all the way in order not to create a short. Ensure that your new alternator's plug matches the one from your old alternator, this is very important.
Alternator pulley changed by customer – Our high output alternators come with an overdrive pulley. The pulley is designed to improve low RPM charging so that it yields maximally. Do not change this overdrive pulley out with a larger diameter pulley. When alternator pulley diameter is increased, the output amperage decreases.
The alternator I got is not working.
Our products are custom built to perfection, bench tested, and confirmed to excel in performance specs before they are shipped out to our clients. The top reasons we have observed that could likely be a reason why our products wouldn't function include the possibility of it being damaged during shipping or installation, or it could possibly be the wrong one for your application altogether. If you certain you have gotten the right alternator for your application and it was not damaged during shipping, you are implored to refer to our manual for correct installation guide, it happens that if the alternator was not well installed, it will not work.
The alternator I got does not "put out."
As promised to all our customers, our products are fully tested ensuring their outstanding performance before shipping. In our experience through the years, it is in many cases not the alternator itself. You must ensure you consider a few possible concerns in your troubleshooting – please read the instruction manual thoroughly.
Warranty and Shipping
All orders are custom built. Orders ship within 5 to 10 business days unless parts are on back order but customers are notified if that's the case. We offer lifetime warranty on alternator labor and one year warranty on parts. If your package is damaged during shipping, we are not liable for the cost of repair nor the return shipping fees. However, we are happy to fix the damage made by shipping, Free Labor. All orders are heavily wrapped for shipping with several layers of big bubble wrap and two layers of boxes along with the Fragile sticker on the box. If you have to ship your alternator back, please be sure you wrap it the same way to prevent further damage.
Battery Light Comes On – Alternator Not Charging
The reason could be one of two things:
Either the plug is wired incorrectly or the computer is sensing the higher voltage and causing the battery light to come on even though the alternator is charging properly. Please refer to the instruction manual tab on the website for specific instructions that will help you with wiring. For some older vehicles, the factory style regulator is not available with the hairpin style alternator. This is why your high output alternator will come already "upgraded" with the 15 volt regulator. It will have an oval plug which requires splicing into the factory plug. This is a simple ,fast step and these instructions are detailed for you in the instruction manual.