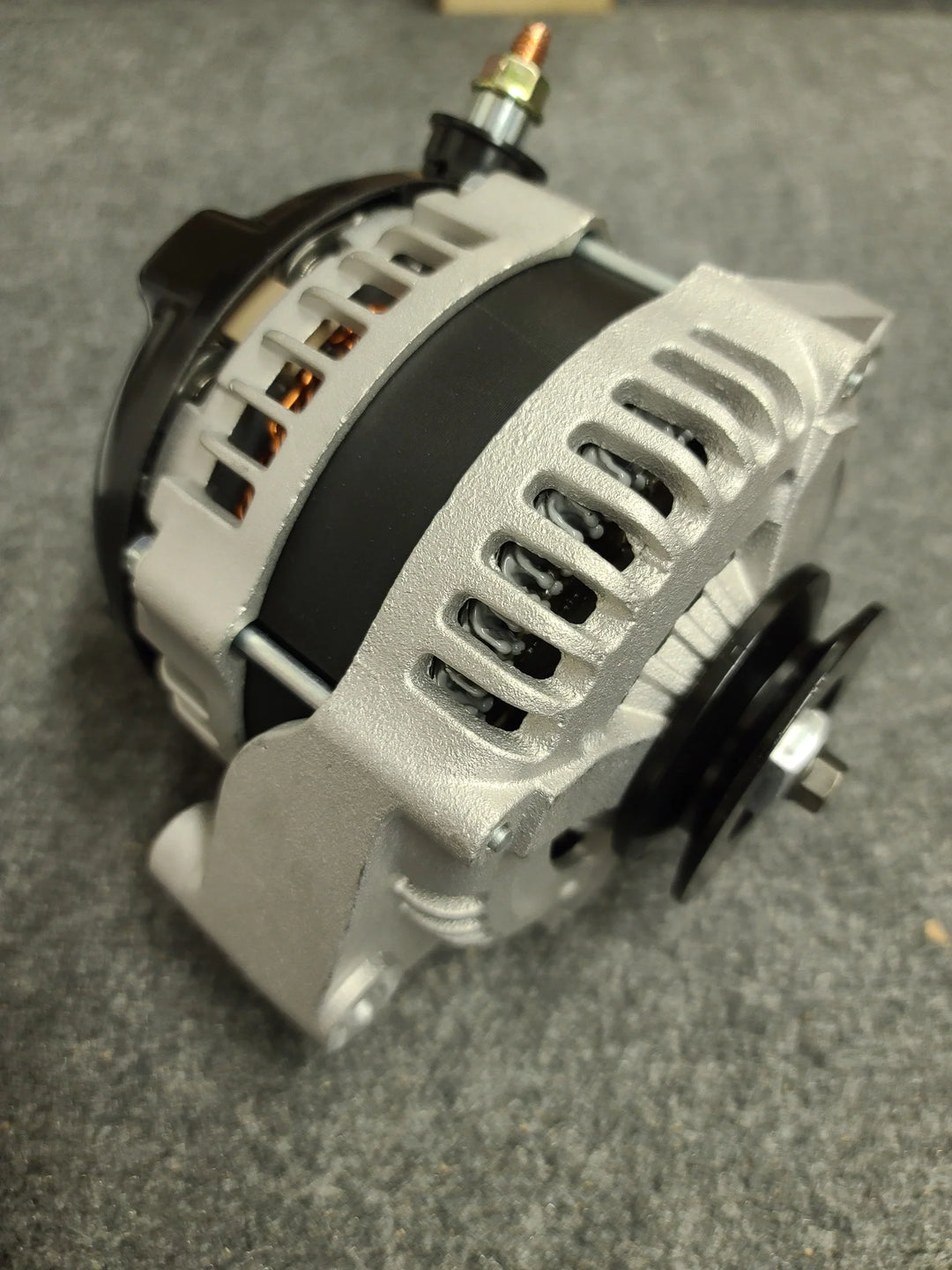 12SI Racing High Output Alternator 250amp - One Wire Turn On
Most JS Alternators are custom built to order and typically take 5-15 business days to be built and shipped. If you need an alternator sooner than this timeframe, please contact us at 864-514-8462 to see if we have it in stock.
We offer free shipping in the United States. Orders ship in approximately 5-15 business days, sometimes sooner. If for some reason parts are on back order, we will notify you, but this is not common.
Hairpin units are commonly called 6 phase. They produce more output at idle and are more efficient than a conventional alternator. JS Alternators hairpin units feature premium bearings to withstand high engine rpm and utilize dual plate rectifier with 12 heavy duty diodes for improved cooling. Hairpin Units are a more reliable alternator to withstand high heat, high demand for your racing applications
This unit is a direct replacement for standard Delco 10DN, 10SI, and 12SI alternators, making it easy to install on most 1963-1985 GM vehicles. This direct replacement makes for an easy installation! To activate the alternator, you only need to connect a single wire from the provided pigtail to any ignition switched 12V+ source. This allows the alternator to turn on and off with the ignition switch. This unit is for a racing application, be sure to select what pulley design is needed for your vehicle in the drop down menu. Every 250amp alternator will automatically come with the OEM size pulley unless specified in your order notes.
All 12SI Applications will come with a 45 mm. (or 58mm for V Belt) pulley and will require installing a 1/2 inch - 1 inch shorter belt.
Fitment Guide:
| Make | Model | Engine | Year(s) |
| --- | --- | --- | --- |
| BUICK | All Early Models | Most Engines | 63-79 |
| BUICK | Gran Sport | All Engines | 65-67 |
| BUICK | Riviera | All Engines | 63-70 |
| BUICK | Skylark | All Engines | 63-79 |
| BUICK | Wildcat | All Engines | 63-70 |
| CADILLAC | All Early Models | All Engines | 63-85 |
| CHEVROLET | All Early Models | Most Engines | 63-85 |
| CHEVROLET | C10 Pickup | All Engines | 63-78 |
| CHEVROLET | Camaro | All Engines | 67-80 |
| CHEVROLET | Caprice | All Engines | 66-77 |
| CHEVROLET | Chevelle | All Engines | 64-73 |
| CHEVROLET | Chevy II | All Engines | 63-68 |
| CHEVROLET | Corvette | All Engines | 63-79 |
| CHEVROLET | El Camino | All Engines | 64-77 |
| CHEVROLET | Impala | All Engines | 63-77 |
| CHEVROLET | Malibu | All Engines | 64-77 |
| CHEVROLET | Monte Carlo | All Engines | 70-77 |
| GMC | All Early Models | All Engines | 63-85 |
| GMC | C15 Pickup | All Engines | 67-78 |
| OLDSMOBILE | All Early Models | V-8 | 63-85 |
| OLDSMOBILE | 442 | All Engines | 65-71 |
| OLDSMOBILE | Cutlass | All Engines | 63-76 |
| OLDSMOBILE | F85 | All Engines | 63-72 |
| PONTIAC | Early models | V-8 | 63-85 |
| PONTIAC | Firebird | All Engines | 67-70 |
| PONTIAC | GTO | All Engines | 64-71 |
| PONTIAC | Tempest | All Engines | 63-70 |
| PONTIAC | Ventura | All Engines | 71-77 |
Regular price
$449.00
Sale price
$349.00
Save $100.00
/
---